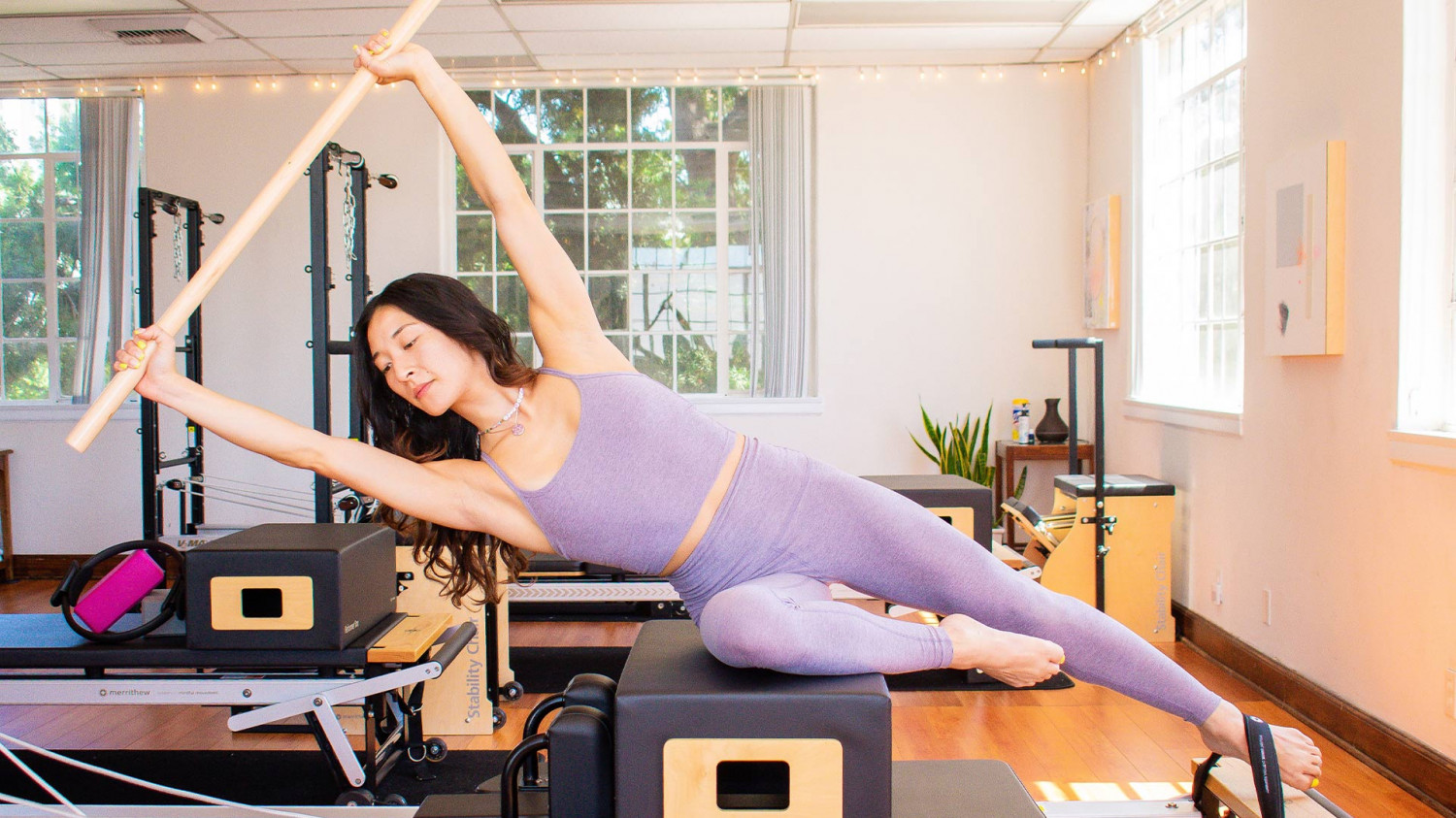 Gold Line Pilates Pasadena is different
P - Personalized -- The instructors at Gold Line Pilates are highly experienced and certified by reputable international programs. Due to their lofty qualifications, they are free to design workout programs for the bodies present, rather than adhering to a rigid and monotonous routine or a regimen dictated by a corporate chain.

I - Inclusive -- Gold Line Pilates is all about positivity, support, inclusion, and thus, empowerment. We seek to create a safe space where we respect and appreciate everyone's individual journey towards wellness, and we do not tolerate shame or judgment.

L - Likeable -- If it's not fun, you won't do it. Gold Line Pilates is fun, but not frivolous.

A - Approachable -- Pilates is intimidating. We get it. We are going to help you. Gold Line Pilates is a community ... you will feel like family.

T - Truly Pilates -- Many Pilates studios do not really offer Pilates ... it's just a difficult workout that happens to occur on Pilates equipment. But the Pilates method has particular tenets and principles that will lead to a whole range of benefits. At Gold Line Pilates, we believe that a contemporary approach to the Pilates method is the best way to achieve optimal results.

E - Education -- Pilates is about precision and at Gold Line Pilates, we strive to make sure that all of our clients feel the correct muscles in the most meaningful and efficient way possible. As such, you'll learn about how to organize your core muscles, the different pelvis positions and when to employ them, proper posture in various positions, appropriate movement patterns, and many other functional techniques to improve your body and overall wellness.

S - Safe -- The main priority of many exercise modalities is intensity, intensity, intensity ... faster, heavier, more all the time. This mentality puts you at risk for injury and leaves you feeling weak, sore, and discouraged. The biggest priority at Gold Line Pilates is making sure you experience a quality (and yes, intense!) workout without ever feeling worried about hurting your body.
"Gold Line Pilates gives me exactly what I want: top of the line private Pilates instruction. Under the expert guidance of owner Melissa over the past year, I have noticed significant improvement in my flexibility, core strength, and muscle tone. I appreciate Melissa's deep knowledge and experience with Pilates and I benefit from her focus on proper form. Melissa is patient and kind, and she encourages me ever onward with workout routines that are customized and fun. The spacious and sunny studio space is outfitted with sophisticated Pilates and Gyro equipment. Parking is plentiful just a few steps behind the building."
Cynthia T.
San Marino, CA
"I can't say enough good things about Gold Line Pilates! I am new to Pilates, and it took me a while to take the plunge, but I am so happy I did. Ana is the absolute best. In a few short months, I've gotten stronger, more flexible, and much more in touch with my body. Ana constantly challenges me with new exercises and pushes me to grow--I can see and feel the changes in my body, and it is all thanks to Ana! Her energy, enthusiasm, and great sense of humor inspire me and keep each session fun.

Melissa, you've built a truly special studio and community in Gold Line Pilates. Thank you for this gift to Pasadena!"
"Gold Line Pilates has helped me make Pilates and wellness overall a regular part of my life. I have so many previous injuries that I'm a difficult client at best, but the instructors at Gold Line Pilates have seen it all. I feel so much better and am nothing short of amazed at their attention to detail, competence, patience, and compassion."
"I started Pilates a couple years ago in part to try to rehab a stubborn hip flexor injury that hadn't improved with traditional physical therapy, ultrasound treatment, massage, etc. Melissa is so knowledgeable about anatomy and physiology that I was pain-free after a few months of Pilates work directed at strengthening complementary muscles. I haven't thought about the hip since, but I'm absolutely addicted to Pilates and Gold Line Pilates is the best place in town."
"If you think Pilates is easy, you're not doing it right. I have worked out hard my entire life, skied, rock-climbed, lifted weights, all kinds of stuff. I'm constantly amazed at how difficult and varied my Pilates sessions are at Gold Line Pilates. It's extremely humbling."
"My instructor at Gold Line Pilates is a body detective. She knows my body better than I know myself. When I perform a particularly difficult exercise, she already knows what I'm going to feel and how I'll try to cheat."
"I've been a pilates student for over a decade (mat and reformer) and the owner, Melissa, is as good as it gets. Not only is the space a beautiful, tranquil place to work out, but the equipment and instruction are both unparalleled. Whether you're a novice or jokingly consider yourself an old pro, you'll learn from Melissa quickly and easily. The sessions breeze by as she keeps you laughing while you work. Expect to get stronger and more flexible quickly if you're consistent."
"Just turned 70, I have bursitis in one hip and arthritis in the other. When I visited the orthopedic surgeon, he was amazed at the strength and range of motion of someone my age and my diagnoses. His exact words were: "Whatever you're doing, keep doing it!" Don't worry Doc! I also happen the love the hour I spend with Melissa each week!"
I don't live in Pasadena, so 'm not lucky enough to call Gold Line Pilates my home studio. But I do come here a few times a week whenever I'm in town to visit my grandchildren.

I've been a workout enthusiast my entire life, but only discovered Pilates in the past several years. It has done so much to keep my body healthy and strong, and is a great compliment to my distance running. I used to take group classes, but since starting Private pilates my progress and knowledge of my own body have really accelerated. The individual attention makes a huge difference and you know you're performing each exercise with proper form and precision.

I've worked mostly with Anna and highly recommend her. She's very experienced and engaging. Her workouts are challenging and offer a lot of variety, which I love. I've met many of the other staff and they are all friendly and knowledgeable as well. Definitely give this studio a try!
Ella M.
South Pasadena, CA
I've taken reformer Pilates classes for years and highly recommend Gold Line Pilates to anyone who is looking for an effective and personalized workout led by talented and experienced trainers. Melissa and her crew take their role as teachers, trainers, and healers very seriously, resulting in a workout you can't get anywhere else. I have learned so much in each session about body dynamics and how small adjustments can lead to greater strength, flexibility and mobility. The space is also bright and airy, and there's free parking! Check it out-whether you're a Pilates newbie or expert, you will be impressed!
Christian H.
La Canada, CA
love Gold Line Pilates! I get one-on-one private sessions which focus on my personal goals. The workouts are fun, challenging, and different every time so I'm never bored. After a few sessions, I was already standing taller and feeling stronger! The equipment is all new, lots of natural light in the studio, and free parking. I definitely recommend it, you'll be hooked.
Stephanie B.
La Canada, CA
Melissa and her staff are the absolute best instructors anywhere I have tried. Literally every part of my body is stronger, my balance has improved and my posture is noticeably better. Each session adds something different to keep things interesting and challenging. Melissa is a wonder at adapting to injuries or other problems and focusing on areas that need special attention. Strongly recommend for every age group, including seniors, and every level. Not least, Melissa makes it FUN!
My resolution for 2022 was to get into great shape-- I committed to going to Gold Line Pilates 2x weekly and am proud to say I'm in the best shape of my LIFE thanks to Melissa. Because of her decades of experience, she doesn't just go through one-size-fits-all exercises, but rather she teaches to the individual body in front of her. She is like the best version of a physical therapist -- she knows all of the anatomy and notices when there is an asymmetry or area that needs extra work. Most of all, she knows how to get me the best results and pushes me while keeping me safe and injury-free. Gold line is my forever studio and I feel so grateful to have found Melissa!
Courtney R.
San Marino, CA
This place is the best. Melissa is an incredible instructor! As someone who did not know pilates when I first came to her class, she somehow taught a group lesson and found time to give me individual attention too, making sure I learned not just what to do but the proper way to do it. She starts every class by asking how everyone's bodies are feeling in order to make sure she can tailor the class to the group's needs and customize the exercises to make sure no one gets hurt. She is also an incredibly clear instructor--she doesn't presume you know how the machines work unless she knows you and knows your capabilities/experience. And now that I know what I'm doing, I have taken a couple of private lessons (which I HIGHLY recommend) and she is using that time to help me understand where my strength is and what needs to be built up. Honestly I have nothing but great things to say... if you are a beginner, she's great. If you are experienced, she's great. If you are an athlete, great. If you are not, great. This is why you don't go to the chains and instead opt for the smaller shop: the attention to detail and the care for students is unparalleled. Gold Line forever!!
Michael Z.
Los Angeles, CA